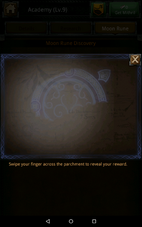 The Moon Rune is a feature of the Academy. It presents a sort of "scratch off" feature to earn free items from about every 1 minute to 2 hours. Awards vary with player level, but are generally resources, hourglasses, and troops ranging all the way up to T5 units at around Level 80.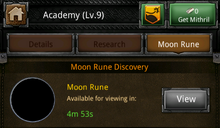 Each time you claim a Moon Rune, the timer restarts. Sometimes it's almost instant, but more commonly it's set to anyway up to about 90-120 minutes.
Common Rewards
Edit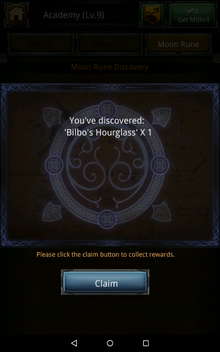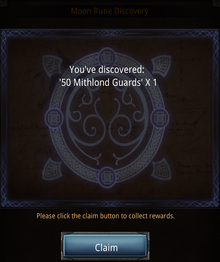 Rewards include, but are not limited to:
1,000, 5,000, 10,000, and 40,000 of Food, Wood, Stone, Ore, and Gold.1
100 and 500 T1 units and porters
500 and 1,000 T3 units (500 at around level 60, 1,000 at around level 70)
50 T4 units (starts around level 70), 100 T4 units (Starts around level 90)
50 T5 units (starts around level 80)
Bilbo's, Gollum's, and Elrond's Hourglasses.
Galadriel's Token (new as of Late March 2015)
Value and Controversy
Edit
To a new player, it might seem like all of the rewards are great. However, to a seasoned player, they may get more value by having the academy be converted to a home or barracks. Your play style and future changes to the Moon Rune may influence this decision.
Footnotes
Edit
1: As of 8 January, Pearls have not been seen on the Moon Rune.
2: 23 March 2015, a change was noted. Galadriel's Tokens were seen [by me] for the first time.
Ad blocker interference detected!
Wikia is a free-to-use site that makes money from advertising. We have a modified experience for viewers using ad blockers

Wikia is not accessible if you've made further modifications. Remove the custom ad blocker rule(s) and the page will load as expected.