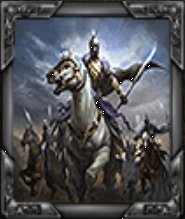 Riders of Erebor(Dwarves)
Riders of Rivendell(Elves)
Introduction
Edit
Times are getting hard in Middle Earth, however, new troops arise... They are the strongest mounted troops across 'The Hobbit KOM' However, they are rare and only can be found in chests or prizes... Good Luck finding them!
Statistics
Edit
These troops are worth a massive 144 might. They consume 32 food/hour.
Please help contribute if you know other information
Ad blocker interference detected!
Wikia is a free-to-use site that makes money from advertising. We have a modified experience for viewers using ad blockers

Wikia is not accessible if you've made further modifications. Remove the custom ad blocker rule(s) and the page will load as expected.